Happy New Year!  It's hard to believe that we are going into our third year at the farm in Georgia – can't call it the new farm anymore.  There have been many changes over the last year and we are very excited about them and can't wait to share with you.  Read on to learn about the new faces at the farm and the accomplishments over the last year.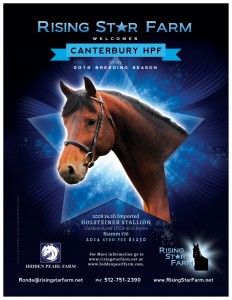 Our biggest news is the arrival of Canterbury HPF.  This exciting young stallion (Canturo/Acord II/Cor de la Bryere) is owned by Nick Edmunds of Hidden Pearl Farm.  If you are looking for a stallion that will bring a beautiful face, tremendous jump and canter – with a first class pedigree – to your program, look no further!
Speaking of the stallions, 2013 saw lots of new breeding approvals and performance for our stallions.  Cartier R (Cassini I/Acorado/Corleone) wowed us all when he earned his permanent license for AHHA over the course of the 2013 show season – finishing the year with strong performances at 1.10m.  Diabolo d'Esquelmes, approved for RPSI, as well as sBs, also impressed in the jumper ring.  Both of the boys are more than ready for the 5 year old Young Jumper Championship program with rider Jennifer Ramsey.  Dressage superstar Abrikos was approved by both GOV and RPSI and Valentino Z impressed the sBs judges with his type and presence this past summer.
Preparations are underway for the 2014 breeding season.  Rising Star Farm will offer stallion collections Monday  – Saturday, beginning in mid-March.  Abrikos, Canterbury HPF, Cartier R, Diabolo d'Esquelmes, Figaro B and Valentino Z are all offered with fresh semen.  We will also foal out and breed outside mares on site.  Finally, we will offer a custom foal program with our outstanding group of broodmares – either with an RSF stallion or an outside stallion of choice.
As always, Rising Star Farm has some exceptional horses for sale.  Check out our offerings below – whether you're looking for the perfect stallion for your mare or ifyou are looking for a performance horse prospect, Rising Star Farm can meet your needs.
Call  or email – 512-751-2390 or Ronda for a stallion contract or more information about our horses for sale or custom breeding opportunities.
Attention Canadian Breeders!  Frozen semen from Cartier R, Cielo B, Ciroc, Deja Blue B, Figaro B and Valentino Z is available in Canada.  Rising Star Farm has partnered with Lin-Mar Farm to provide stallion service with frozen semen in Canada.  Please contact me for details/prices.  We hope to have Diabolo d'Esquelmes and Canterbury HPF available as well!